Each year, iThenticate checks 14 million documents, earning its reputation as the most trusted similarity checker by the world's top researchers, publishers, and scholars. With such an esteemed reputation comes fair expectation for a version of iThenticate that oozes quality and substance. That's why we've made it a priority to measure up to the high standards of our research community—by building a tool that is not just functional, but delivers on design and user experience.
Turnitin is delighted to introduce the latest iteration of iThenticate, now enhanced and more intuitive than ever before.
With a highly anticipated, user-friendly interface, iThenticate 2.0 promises to provide new capabilities that will further promote originality within high-stakes written work, backed by world-class data security measures.
Join us as we journey through the key features that new users of iThenticate can enjoy, starting today.
Does iThenticate 2.0 support AI writing detection?
In April 2023, Turnitin's AI writing detection capabilities launched across many of our integrity solutions—a milestone in combating the improper use of AI writing tools, such as ChatGPT.
Our continuous drive for innovation to protect against emerging threats has empowered us to introduce a version of iThenticate that includes the latest and most advanced tools to support research integrity. We are pleased to include AI writing detection as part of the iThenticate 2.0 suite of features.
We are confident that the addition of AI writing detection in iThenticate 2.0 gives researchers, publishers, and scholars the tools they need to protect themselves from this emerging form of misconduct as they embark on their research and publication journey.
In a PubCon event discussion , Fabienne Michaud, Product Manager at Crossref, shared that, "when it comes to AI, one of the biggest threats is its lack of originality, creativity, and insight. AI writing tools were not built to be correct. Instead, they are designed to provide plausible answers. This is in juxtaposition to the values that form the foundation of scholarly publishing."
Due to the sophisticated nature of generative AI, humans are finding it increasingly difficult to manually detect AI writing. In a study by Gao et al., just 68% of AI-generated scientific abstracts and 86% of human-written abstracts were correctly identified by human reviewers (2022 ). Our goal is to lighten the load for researchers and publishers, minimizing the effort associated with checking for AI-generated content. Turnitin's AI writing detection tool can check papers en masse and at speed, thus improving efficiencies across the traditionally intensive publication process.
Is iThenticate 2.0 aligned with industry standards?
At Turnitin, we believe that user experience is more than just a concept, it's a tangible feeling. We've made a concerted effort to transform every iThenticate interaction into a positive and seamless journey.
The iThenticate 2.0 experience is frustration-free
iThenticate 2.0 introduces a revitalized and contemporary interface, crafted with our research community in mind, and enabling effortless navigation from the initial onboarding stage through to the final similarity check. iThenticate's new look is consistent and deliberate to ensure that even its newest users can get off to the best start. We take great pride in sharing that iThenticate 2.0 meets accessibility standards, thus increasing inclusivity among our education community.
Choose where your data is stored in iThenticate 2.0
We understand the concerns of our research community when it comes to data compliance, and we're incredibly proud to share that all data transferred to us is stored on a highly secure AWS data platform. With data centers in the United States, Europe, and across the Asia-Pacific region, this assures Turnitin customers that all personal data uploaded to iThenticate 2.0 is safe, protected and being stored and processed according to the world's highest standards.
Our updated technology lays a robust foundation for delivering functionality at a faster pace. We're confident that with state-of-the-art technology, we can now provide the latest and most advanced tools to help institutions innovate at speed; we see this as a step towards improving the effectiveness of all involved in the publishing journey.
How does the Similarity Report in iThenticate 2.0 promote research integrity?
The Similarity Report is Turnitin's longest-standing product and is most synonymous with our brand. Comprising a myriad of functionality, the Similarity Report allows the research community to zero in on the source of text matches, pinpoint discrepancies in an academic paper, such as replaced characters or hidden text, and generate an AI writing score. The Similarity Report helps to identify specific forms of research misconduct, including text recycling, salami slicing, and redundant (or duplicate) publication .
Constant refinement and updates to the Similarity Report has made iThenticate 2.0 a valuable tool for promoting research integrity—giving researchers, publishers, and scholars the reassurance that an academic paper has been thoroughly checked for potential misconduct.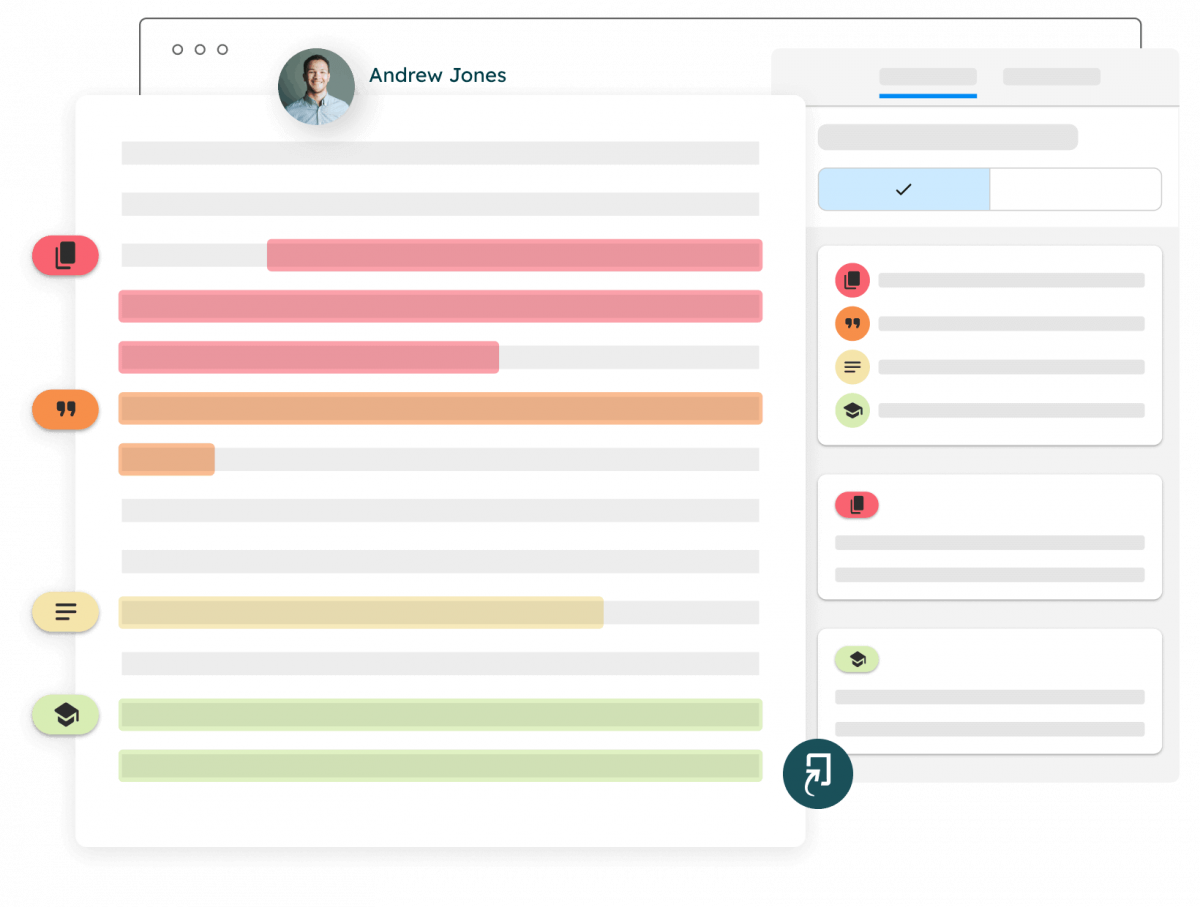 Get insight into hidden text modification techniques with the Flags Panel
As part of the iThenticate 2.0 experience, our enhanced Similarity Report provides the same features that our education community know and love, with even greater integrity features that further improve the standard of research integrity.
Now available in iThenticate 2.0 is the Flags Panel , which highlights potential text manipulations in an academic paper. Today, there are two types of flags, including replaced characters and hidden characters. Most useful to publishers, both of these forms of text manipulations illustrate a more deliberate effort to bypass similarity algorithms.
With the new Flags Panel, publishers can be confident that the papers they publish are free from intentional forms of academic dishonesty, which if missed, stands to put their publishing reputation in jeopardy.
Improved exclusion capabilities offer a more refined similarity score
Exclusion capabilities in iThenticate are highly regarded, as researchers, publishers, and scholars seek to check only text submitted as original writing against the Turnitin database. By that, we mean discounting bibliographic content, quotes, citations, and small matches. But in having conducted intensive user research, we identified gaps in our exclusion capabilities that presented an opportunity as we looked to enhance our iThenticate offering.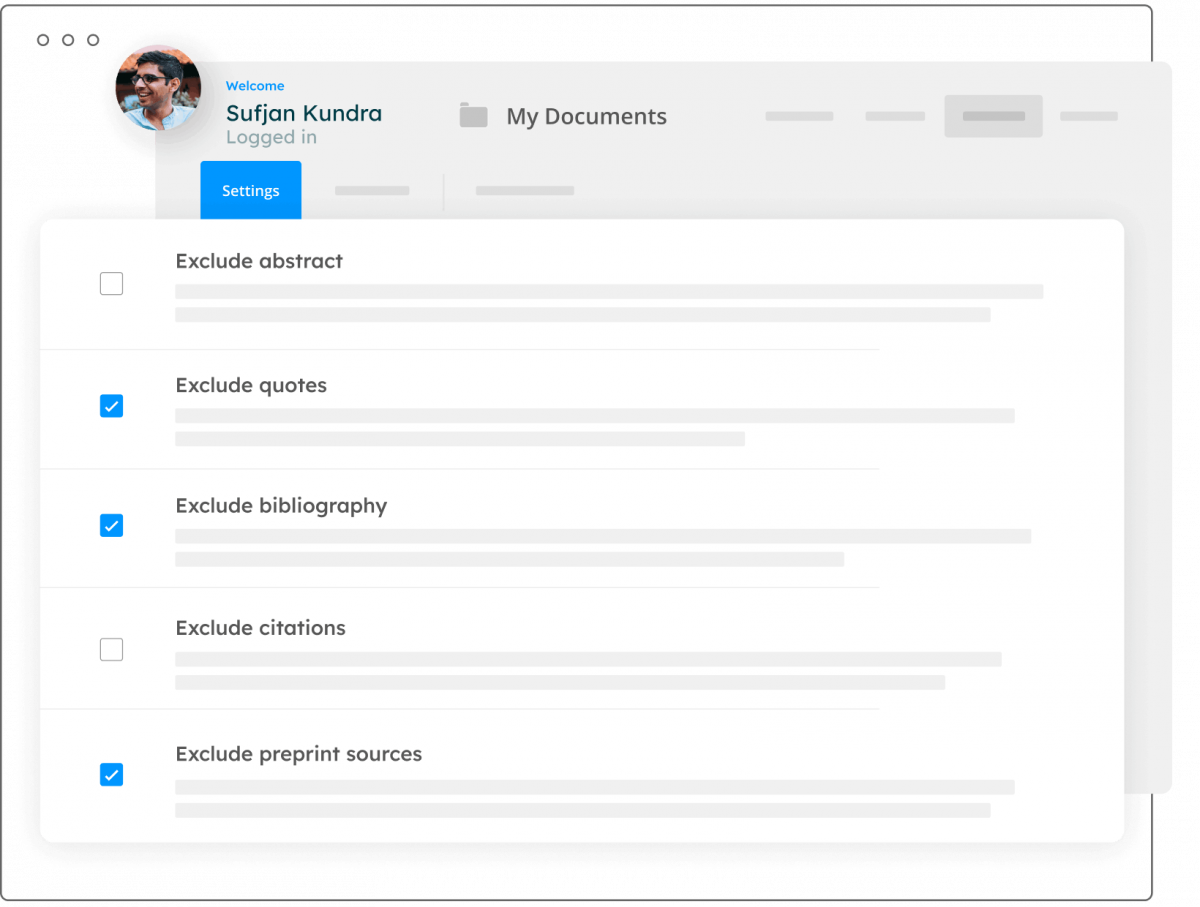 iThenticate 2.0 addresses several exclusion limitations, allowing further refinement of the Similarity Report and a more accurate similarity score:
Preprint Exclusions: iThenticate 2.0 can now detect matches from the world's biggest preprint repositories and label them accordingly. Users can exclude preprint sources automatically, or exclude them on a case-by-case basis, with the opportunity to manually add additional preprint repositories. With preprint exclusions, the iThenticate 2.0 Similarity Report becomes a highly reliable source of reference, reducing the amount of manual effort usually involved in identifying this type of match.
Content Databases Exclusion: The iThenticate 2.0 Similarity Report allows flexible exclusion of matches from different content databases, including internet, publication, and submitted works . This added capability saves time and removes bias, allowing a more in-depth analysis of the Similarity Report, and providing the necessary tools to understand how different forms of content in the Turnitin database are influencing a paper's similarity score in real time.
By using iThenticate 2.0's all-new settings to dynamically discount various types of material from the Similarity Report, researchers can be confident that each paper's similarity score relies solely on the content submitted as original writing. This step also contributes to creating a level playing field for researchers and scholars submitting different types of work, such as qualitative vs. quantitative analyses.
How does iThenticate 2.0 encourage user collaboration?
For a paper to be ready for publishing, it goes through multiple rounds of peer review, editing, and even technical editing. It is an undertaking with many minds bestowing their knowledge to achieve the best outcome for all involved. It's no surprise that without collaboration throughout the writing and publishing process, efficiency, accuracy, and even integrity have means to weaken and fall apart. In a study on ways to improve research quality, Liao identified that, "a higher intensity at which scholars are embedded in a collaboration network, results in higher research quality" (2010 ).

One of our top priorities as a part of the iThenticate 2.0 launch is giving the research community the means to work together fluidly, removing all barriers from the research collaboration effort.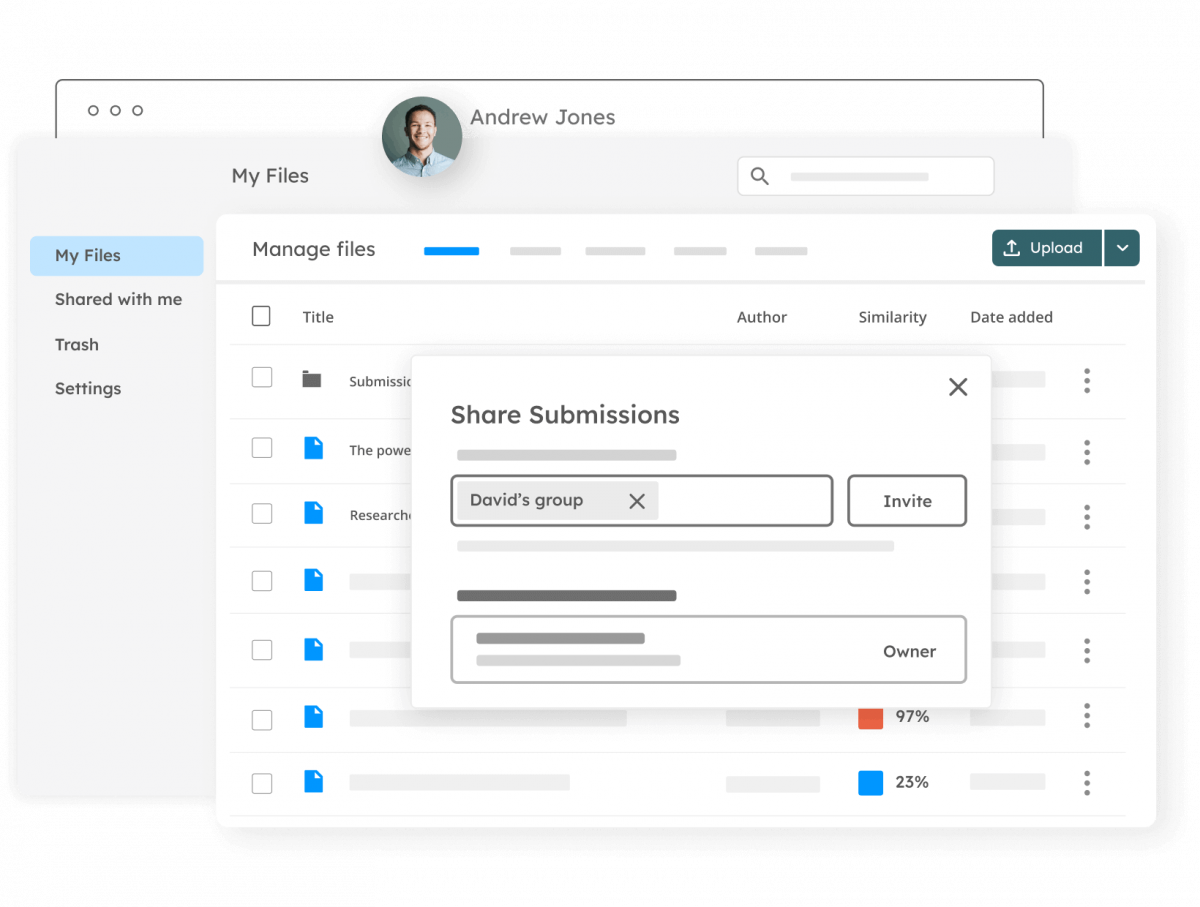 Visibility, efficiency, and automation with User Groups
iThenticate 2.0's new User Groups sets up collaboration workflows for vertical and horizontal teams within research and publishing organizations. Organizations can now create groups of users and give specific groups of people access to a carefully-selected set of files and folders within iThenticate 2.0. With this capability, research and publishing organizations can work together seamlessly, regardless of the formal organizational affiliation of each particular member.
iThenticate administrators also have full control over access levels and user management to streamline collaboration for a more efficient and high-quality review process at the organizational level. This includes viewing User Group statistics, and accessing User Group Similarity Reports from one, centralized location.
With User Groups, we see this as a positive step towards increased visibility, efficiency, and automation along the course of a research project, and reducing the time involved in the review process.
Is iThenticate 2.0 available to all iThenticate users?
At this time, iThenticate 2.0 is available to new customers only. We're currently developing a tool to move existing user data to iThenticate 2.0 as smoothly as possible. This will ensure that we can minimize disruption for all involved. The tool will be in the next few months and we will keep all of our iThenticate customers updated on progress.
Conclusion: Advance research integrity with AI writing detection
Turnitin's updated infrastructure has given us the power to deliver features and functionality to iThenticate 2.0 at speed.
Offering a solution to the sudden introduction of generative AI has been our top priority for 2023, and we are thrilled to bring AI writing detection to iThenticate 2.0 long before the year is out. But our work doesn't stop here.
Generative AI continues to cause a wave of disruption to global education, developing at an alarming rate. But so too is the technology behind AI writing detection. At Turnitin, we recognize the needs of our education community and are hard at work on expanding our model to enable us to better detect content from other AI language models.
With best-in-class tools, including a reliable similarity checking process, plus a range of flexible collaboration tools, iThenticate 2.0 is well positioned to confront emerging threats to research integrity, supporting the research community as they seek to produce and publish original, high-stakes written work with confidence.